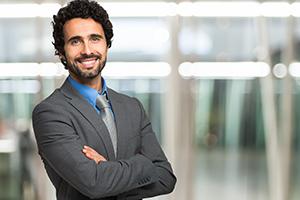 In order to find a soulmate, more and more single men understand it is worth investing in professional matchmaking services.
This trend that originated in the United States and reached England, France and many European countries, progresses at a rapid pace each year all over the world. We must note that the number of single sis constantly growing. Last year, an article in l'Actualité estimated a 100 million singles worldwide, a trend expected to increase according to what the statistics have been predicting since the 1960's.
In England, for example, we currently find one million more singles than ten years ago. Here, l'Institut de la statistique du Québec noted that over the past thirty years, the number of Quebeckers living with a partner has declined. Among those aged 40 to 44, the percentage went from 82% to 69%, and from 77% to 70% for women. The city of Montreal ranked first with 36.5% of singles while the national average is 28%.
Finding a significant other, whether it is to have a family, enjoy an active sex life or simply to escape loneliness, is no easy task. What could be more unsettling than depending on friend's referrals, the unlikelihood of spontaneous encounters or the unexpected chances of developing a workplace romance?
The Story of Mr. Smith and Leane
Let us take the example of Mr. Smith. In his forties, Mr. Smith is a successful London-based business man who has style, drive and a passion for exotic travels. But Mr. Smith has been single for a while and worries about it. He fears that he will reach fifty before having the opportunity to start a family.
Mr. Smith agreed to meet Leane for coffee. Elegant and sophisticated, Leane runs her own company and talks about consultants and connections, a language he understands perfectly. The meeting had no other purpose than a friendly discussion but as he was leaving, he decided he wanted to see her again. This time, the meeting took place in Leane's office, to whom he agreed to pay 8,000 pounds (16,000 dollars) for about ten meetings over an 18-month period and the promise to find at least one good match or even a soulmate.
Leane is a Professional Matchmaker.
Note that in Quebec, Mr. Smith would have paid only a fraction of that price for the same service. British matchmaking agencies are very popular and much more expensive.
A Lasting Trend
The matchmaker's job consists of finding the right match for their clients. The process begins with a conversation to gather as much information as possible on the client and what makes him happy, then to carry out an exhaustive search for compatible partners. Personalized meetings follow, allowing to make adjustments, through which the matchmaker remains available for support and guidance.
More and more matchmaking agencies have set up shop all over the world. What was taboo just a few years ago is now becoming trendy. Doing business with a matchmaking agency is as trendy as having a personal trainer.
Where Websites Fail
In the early 90's, dating websites were promising a revolutionary way of opening vast horizons to people looking for a partner. Today, several of these websites have millions of members.
The problem is people lie on their online profiles. They put ten-year-old pictures and pretend to look for love when they are married. The Okcupid.com website confirmed that men in general, declare a salary 20% higher than reality and increase their height by 2-3 inches! In addition, these websites calculate compatibility with an algorithm. How can we trust a program that does not even know us?
In the end, clients who turn to matchmaking agencies seek to get rid of useless internet searches to find a simple, honest and reliable approach.
Agencies are Reassuring
Although many remain sceptical regarding agencies, the majority of men do not hesitate to invest in what they consider to be the most important project of their life.
Regarding his experience with Leane, Mr. Smith says: "Leane was recommended to me by two friends. As a businessman, I thought her approach was not too different than mine. Why not invest in a reliable person who can help me meet someone when my schedule prevents me to do so? When I meet women, they are all married or they do not suit me. I was not expecting miracles but Leane can organize the search, filter criteria and save time. I have been seeing her for six months and since then, I have met four women. The first three did not meet my criteria on certain things, but that is normal. Leane's work consists of inducing highly potential meetings and to gather my feedback. She builds and develops the file as we go along.
As for the fourth woman, we met in a restaurant and….Wow! This time, Leane was right on the mark. Our relationship has been going on for 4 months and as far as I am concerned there is nothing but blue skies in the future! Ultimately, the money invested was really worth it. I would have never met these interesting women otherwise. And for the 4th one turning out to be a gem? I am on cloud nine. Consulting a matchmaker is to offer yourself the opportunity to meet someone."

Find love fit for a professional ….with Intermezzo