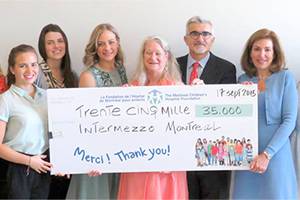 Health and love, two things that we strongly believe in at Intermezzo. Every day we work for our professional members who are busy and don't have the time to find a life partner. It is pure joy and satisfaction that we feel when one of our clients calls to say that he or she has found love!
Health and Love, the two greatest gifts that life has to offer! When it comes to health, the whole Intermezzo team contributes in a big way by giving back. We have chosen to join forces with the Montreal Children's Hospital by giving on a yearly basis. This year we have made a major donation to the Chronic Pain Management Clinic headed by Dr. Pablo Ingelmo. With this donation, equipment for pulsed radiofrequency was purchased. Thanks to this instrument, hundreds of children suffering from chronic pain will be relieved and will be able to lead a normal life… especially, they will be able to go back to school. 
We are proud to be able to contribute to this way and we thank all of our clients because without them, all of this would not be possible!