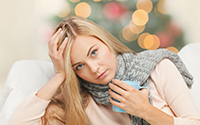 It's not always easy being alone at Christmas. Parship.fr a French website recently published a survey showing that a mere 13,7% of single women enjoy the holiday season while that number is 17,6% for men. That means that there are quite a lot of unhappy people during a season which should be a festive one.
A lot of articles give us ideas for activities that are popular for singles at this time of year. Winter sports are great and it's also the perfect time to get together with family and old friends. It is very important not to be isolated and it is also time to think about an action plan for 2017 if you want things to change.
If one of the things that you hope to change is your single status, you have two very clear options : you can wait and hope that destiny provides you with what you are looking for or you can take destiny into your own hands and make things happen. Here are 3 concrete things that you can control:
1) Have a look at yourself: Do you need to lose a few pounds? Is it time to change your hairstyle or your look? If so, just do it! 2) Go out: you can ski, enjoy the scenery, walk, take pictures, feel good to be alive! 3) Tempt fate: consult a professional matchmaker who will introduce you to someone now! This is a great time to make changes, take a leap of faith, 2017 will be very different as you cuddle with your loved one by the fire when Christmas comes along next year.
Joan S. Paiement