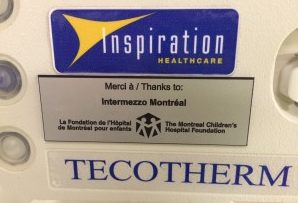 I am excited to announce that a new gift that was given to the Montreal Children's Hospital by Intermezzo Montreal. A priority need for the Neonatal Intensive Care Unit this ' Tecotherm NEO' is a total body cooling and warming unit which will allow babies suffering from after birth asphixia to survive and lead normal lives. We are proud to support the Children's and to be able to contribute to the health of our youth. 
Yearly, we contribute an important percentage of our profits to help this institution acquire world class instruments that will help children to live happy and healthy lives. 
This would not happen without the support of our members and the expertise of each and every Intermezzo Matchmaker. I would also like to underscore the help and guidance of Mrs. Josée Garneau of the Children's Foundation in the selection of equipment to be donated.
Intermezzo's mission is to ensure that our members find true love outside of internet dating sites and applications.... we know that being in love and being healthy are the most important and precious things that life has to offer.
To all our members and my wonderful matchmakers, I say thank you and wish you a very happy holiday season.
Joan S. Paiement, President