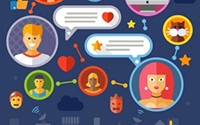 Many single men and women looking for a life partner on  so-called free dating websites  have used EHarmony one of the most famous and most visible dating sites. After signing up and answering hundreds of questions, matches are produced based on an algorithm and submitted to the users. Since 2000, more than 33 million people have signed up and EHarmony has had huge financial success (hence, it isn't really free!). EHarmony boosts its popularity by advertising that they have the highest success rates, most marriages and so on. So is there a problem? Indeed there is! I was fortunate enough to meet one of EHarmony's top managers who told me that the company's biggest challenge was dealing with client dissatisfaction which reaches 95% - that's a big number considering the amount of members. To give you an idea we are talking about 1 650 000 people who have found love vs. 31 350 000 who have wasted time and money not to mention lots of frustration. In general this 95% rate of dissatisfaction is more or less the norm for all dating websites so EHarmony is not any different than its competitors.
The solution for EHarmony was quite simple: they decided to go with the winning formula '' traditional matchmaking''! EHarmony+ was created about two years ago and its goal is to increase client satisfaction by putting professional matchmakers at their disposal. However not just anyone can afford the solution offered by EHarmony+ - the VIP program goes for over $40 000 (cdn)!
It really isnt necessary to invest that much to work with a matchmaker. My recommendation is to call upon a local, well established group of professionals in your area like Intermezzo Montreal. A local matchmaker is in touch with your community, culture and what's going on in your own environment. You can get to meet interesting people for a small fraction of the price. With a matchmaker you will find who you're looking for without having to resort to spending time sifting through an online catalogue and being amongst the 95% of unsatisfied singles! Contact an Intermezzo matchmaker today to find out more!
Joan S. Paiement