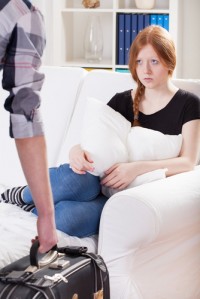 A friend of mine was telling me about her  38 year old coworker who was devastated because her boyfriend told her that he's not ready to commit to their relationship. He said that the main reason was that he was afraid to get too attached to her young daughter (selfish isn't it?).
It's never easy to end a relationship and often, we don't want to hurt the other person. It's a lot easier to lie and use excuses like:
- I'm too busy right now to be in a relationship
- I'm not ready to commit to a relationship right now
- I'm afraid that I will get too attached to your kids... the list goes on.
I meet so many singles who refuse to face reality, hide behind lame excuses and feel somewhat comforted that their ''ex'' did not leave them for lack of love but rather for lack of time. This state of mind contributes to the fact that they are in a rut and remain single as they continue to nurture the hope that he or she will come back.
The reality is much different: if someone is really interested in you, he or she will find the time to be with you and won't fear  growing attached to those who surround you. Therefore when you hear the words ''I'm not ready to commit'' it probably really means ''I'm not ready to commit to you''.
Natacha C. Beatty, Certified Matchmaker