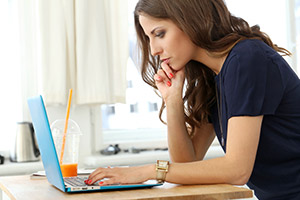 The Internet is flooded with articles and comments describing the frustrations dating websites members experience. Some are hilarious, others are pathetic and most are discouraging let's be honest. Here is an excerpt from an article recently found on Mitsou's website that really speaks for itself and summarizes the situation well.
"After I decided (to register to dating websites instead of pricy agencies, ed) I am crying my eyes out (…) How can I stoop so low to meet someone? I don't know anyone who is bragging about being on this type of website. (…) So I decide to register on 4 of the best dating websites in Quebec (…) I now have access to more single men, therefore more opportunities. If everything goes well and if I thoroughly follow up, I believe I can solve my single status problem in less than a week. (…)

I receive a message from Loup_48: Hey, how ya doin?
Oh…
Me: I am doing well, how are you?
Loup_48: ok, what'cha doin?
Me: What?
Me: Are you Anglophone?
Loup_48: Yep why?
Me: Just curious.
(…)
I receive a message from Nice_guy.
Nice_guy: Hi, are you fat?
Me: Eh?
Nice_guy: Yes, I don't want to waste my time. The last time I dated a girl, she told me she wasn't fat but when she sat down, I saw a roll under her sweater and it turned me off. She was fat and a liar.
Me: (in shock).
End of the conversation.

(…)
I go through hundreds of exchanges like these. (…) Chivalry is put aside, good old-fashioned flirting no longer exists. We want everything now and right away. Yet, we are on this website to get to know each other no? (…) I decide to browse through the profiles. One skydives, the other one traveled around the world twice!!! This one is at his 3rd IRONMAN. One is photographed in the desert on a camel, the other one with a lion, a boat, the Eiffel Tower, the Taj Mahal … (…)

Well gentlemen, I can't keep up with you. I go to the gym 3 times a week. (…) but I have never been in a triathlon. I drink wine, I love to cook, I go to the museum, I go see shows, I hang out with my friends…in short I live and I am sorry for that. After 4 days, I was completely exhausted so I abandoned the project. (…)
But what should I do now?"
Intermezzo has the Answer.
If you believe time is money and if you wish to meet people for real, agency services will be your best option.
With an agency, you will benefit from a qualified matchmaking team to guide you and to accompany you throughout your search. These professionals take the time to get to know you, to perform the best work possible and to assure the most authentic approach. At Intermezzo, you should estimate an average of 4 meetings before finding the right match.
Still not convinced about the difference? Take a look at our top 5 of the most ridiculous websites
For the fresh meat lovers… Bœuf-lovers
From now on, you can share your bloating! Glut'aime

For the tender-hearted who enjoys the hairy ones: WovYou
In keeping with the hairy ones… Stache Passions
And finally, when it needs to be clear the focus is on interior beauty… The Ugly Dating Site
Are you interested in matchmaking? Our previous blog will convince you with 7 simple reasons to hire a professional matchmaker.
Find love fit for a professional ….with Intermezzo