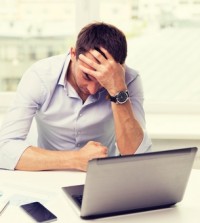 You're a single man. Hence, you think that the ideal way to meet is to go online and sign up on all of those dating sites. It's so easy, you can do it in the comfort of your own home, nobody knows (in reality the whole world knows!). As a result, you spend your evenings sifting through profiles, sending emails and having multiple electronic exchanges that can go on for weeks or months without ever meeting anyone face to face.
Your experience can be described as follows: 
- lots of hours spent online
- hundreds of unanswered emails
- meetings with women who don't look at all like their profile picture
- endless texting with strangers that you will never meet.
Regardless of these bad experiences, you stay hopeful because you have several friends that have met this way so why not you? The answer is simple - the odds are against you. 
As a result, here are certain facts that you should know:
- The most important dating site in North America has revealed that only 5% of their clients actually meet ''the right one''.
- The most important dating site in Quebec boasts 1.6 million members. In fact, only 47 000 of these members are actually active. We are talking about 3% ! So don't take it personally if your emails are not receiving any replies. The fact is no one is reading them!
- The majority of profiles contain false information. Mostly pictures are not representative and people have this thing about lying about their age. (Admit it! You've also cheated!) 
Therefore, if you really want to meet the girl of your dreams, put an end to this waste of time. Contact a matchmaker who will quickly introduce you to serious, available, interesting women that you will find very attractive. To find out more, call Intermezzo at 514-278-9004.