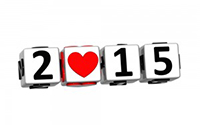 While making New Years Resolutions for 2015 many people will put ''finding love'' at the top of their list. The post-holiday season is a very busy one for matchmakers and others who work with singles looking to meet someone new.
You may have been single for quite some time, and you should take a moment to ask yourself if you should change something on your side. Are you blaming your single status on others? 
I am the first one to say that it is important to be yourself and to not hide behind a façade that misrepresents you. Authenticity is one of the most sought after characteristics in a mate. I am not referring to changing who you are but rather changing your selection criteria for a mate. Everyday I meet single women with a long list of requirements. These women are affected by their endless searches on dating websites where checking a whole bunch of requirements is supposed to bring you the man of your dreams. Could it be that by holding on to this criteria that you are in fact sabotaging your chances of meeting Mr. Right?
Does that 50 year old guy you are looking for really have to have a head full of hair? Wouldn't it be OK if he was slightly balding but shared the same values and passions as you and treated you like you deserve to be treated?
Being attracted to the other person is a non-negotiable. I won't try to convince you otherwise but this attraction can only happen when people meet in person - and that goes for men as well as women. You cannot rely 100% on a photo that can be misleading as well as a bunch of superfluous criteria.
The matchmaker's role is to open you to new possibilities and to surprise you by creating possibilities that you would have otherwise overlooked. These possibilities, often, turn out much better than anticipated!
Your matchmaker is looking to introduce you to someone to whom you will be physically attracted and who will have compatible values - that is the basis for love and the creation of a long lasting partnership.
Give yourself a chance and put a few of your requirements aside. You will be really surprised and 2015 could turn out to be the year that you change your status from ''single'' to ''in a relationship''.
Happy New Year!
Joan S. Paiement