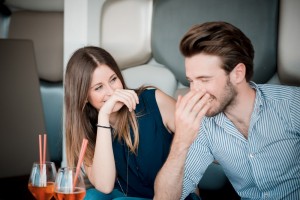 It so happens that matchmaking is still the surest way of meeting a person with whom you have a genuine affinity.
Even today, when so many ways of connecting people exist, the simplest, quickest and most pleasant of them all is to be introduced by someone you know. How great it would be to meet someone in a natural fashion, and without spending a penny! But when no such opportunity has presented itself for a while, it might be time to take advantage of the services of a professional.
Here are seven really simple reasons for calling on a matchmaker, as proposed by prolific, award-winning journalist Susan Shapiro, who is a great fan of matchmaking just like us.
You can avoid bars, clubs, concerts and other meat markets where the chances are higher of meeting people who are already in a dubious state, and who might have equally dubious intentions.
No more headaches about what to say first in the presence of a person who already pleases you. Your matchmaker will have prepared you, so you already know a lot about the other person, and vice versa.
Forget about going through endless profiles online, trying to sort out the right one from a series of impossible choices, which then only lead to wasted time and energy.
Relax and leave those ultra-rapid online solutions alone, especially since they provide free and unsuspected access to fraudsters and imposters hiding behind out-of-date photos and misleading descriptions. And don't forget that when you display your profile online, it becomes public and you lose control over it even if you disactivate it! Think of all the screen shots that are being kept by strangers Beware of identity theft!
Imagine the feeling of liberation by disconnecting from your cellphone, computer, voicemail and other electronic gadgets, as you simply prepare to meet someone with whom you already have an affinity.
Spare yourself the horror of media ads, the surest way for you to become something of a liar yourself. Has anyone anywhere ever displayed photos and information that honestly reflects their real age, appearance, height and weight? Not to mention their income or the reasons for break-ups in the past?
No more bizarre evenings meeting other singles that only drain you of the energy and confidence you need so badly if you are to meet interesting and charming people who are also in your social circle.
Matchmaking is an art and at Intermezzo Montréal we have both mastered it and enjoy sharing our passion. Let us recommend the person who will charm you and, if you wish, put you in contact with them. It really is a pleasant and anxiety-free process.
Are you already looking forward to a first date? Simplify your approach by reading our blog on what to say first.
Finding love with a professional life partner… with Intermezzo.